This journal will be written in spanish. It's about the yearly manga Con I will attend. Sorry for the inconveniences!
BLUMENKRANZ
Buenas a todos! Este año estaré presente una vez más en el Salón del Manga de Barcelona, junto a la artistaza
SaraCuervo
. Podréis encontrarnos en la zona de fanzines, en el stand F23, Blumenkranz. Echadle un ojo al mapa!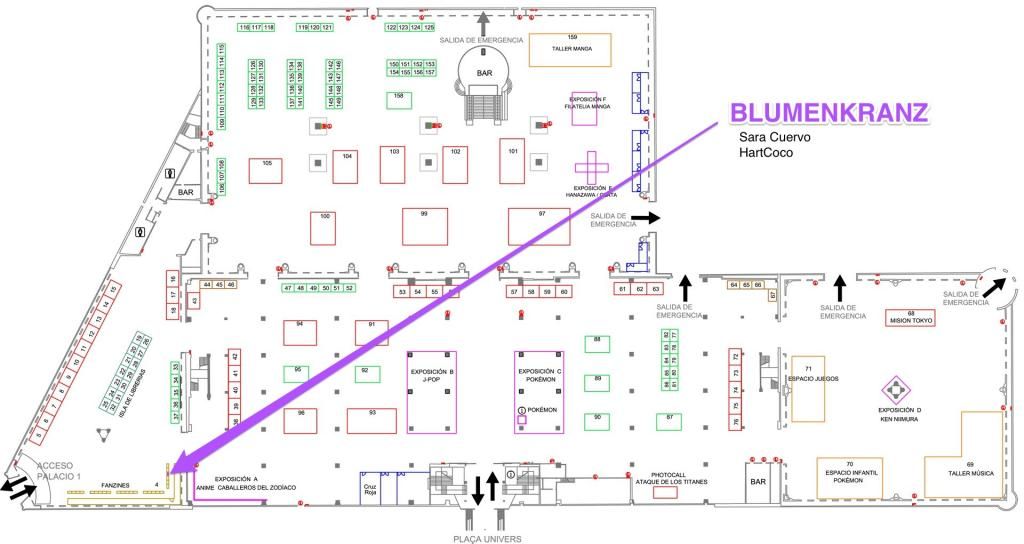 También nos acompañarán, en ocasiones,
Mintonia
y
Bamidala
. Estaremos encantadas de que paséis a saludar!

AINULINDALË
Una de las novedades que os traemos este año es un sketchbook inspirado en los trabajos de J. R. R. Tolkien en el que
SaraCuervo
y yo hemos estado trabajando estos últimos meses:
Ainulindalë
.
En él encontraréis ilustraciones inspiradas en El Señor de los Anillos, el Hobbit y el Silmarillion, hechas en una variedad de medios y salteadas con pequeñas citas de texto. El libro cuenta además con artistas invitados de la talla de
Bea-Gonzalez
,
VargasNi
,
Lelia
,
Mintonia
y
KaoruOkino
. ¡Un lujazo!
Echad un vistazo a algunas de sus imágenes a continuación!
Ainulindalë se pondrá a la venta online en breve a un precio de 7 EUR (€), sin embargo, estará disponible en el Salón del Manga XX a un precio oferta especial de 4 EUR! Sólo en el Salón del Manga!
Además, podréis encontrar la segunda edición de la
Antología de Fantasía Épica BL Cloak and Sword
de
DejaBlueCircle
.
Pósters y Prints
Además de dos publicaciones estupendas, también pasad a echarle un vistazo a nuestros pósters y prints que encontraréis a precios de 1, 2 y 3 EUR! E aquí algunos sneak peeks de lo que traeremos!


Imaginoterapia
Quisiera mencionaros también que este año colaboro en un proyecto muy especial que os trae la revista
INARI
. Se trata de un artbook benéfico que tratará de ayudar con su recaudación a la asociación
Juegaterapia
. INARI tendrá disponible este artbook, además de pósters y prints, en el stand F22 [INARI] de la zona de fanzines, ¡Justo al lado de Blumenkranz!
Imaginoterapia nace de la ilusión, el trabajo y las ganas de ayudar por parte de un nutrido grupo de ilustradores de nuestro panorama nacional.

Bajo la temática de la fantasía, nuestros 41 artistas han dado lo mejor de sí mismos en las preciosas ilustraciones que conforman este libro, con el cual, tanto ellos como el equipo de la revista INARI, pretendemos ayudar a la asociación Juegaterapia.
Juegaterapia, se trata de una asociación benéfica dedicada a la donación de consolas y otros dispositivos de entretenimiento, para que los niños que están pasando por quimioterapia puedan hacerlo con una sonrisa.
¡Nos vemos en el Salón del Manga!
¡Esto es todo! No dudéis en pasaros por Blumenkranz, aunque sea solo para saludar. ¡Nos encantará veros!